One Call Can Solve Your Plumbing Problems

224 - 338 - 0073

Our Services
What We have Done
All of our service appointments are scheduled at your convenience. A owner operated company.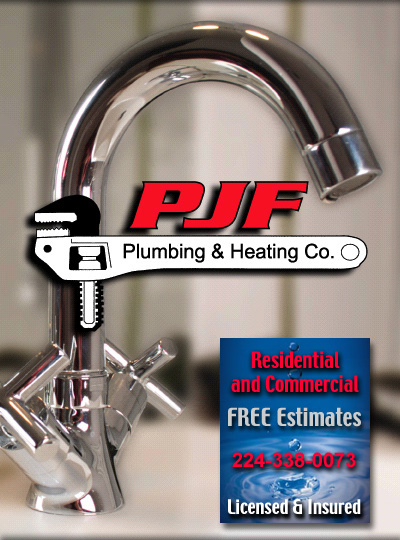 Estimate Form
For Your Convenience
We offer 24 hour emergency and holiday service.
PJF Plumbing & Heating is a licensed, bonded, and insured. Offering you more than 30+ years of experience and all our work is guaranteed for your 100% total satisfaction.

Our Testimonials
What Other's Say
Quality, Responsiveness, Value
Patrick is a very conscientious worker and when he leaves the room is cleaner than when he arrived. Pat does great work. I love my new bathroom. Patrick did all of the work needed including tile, plumbing and drywall.
Punctuality, Quality, Responsiveness, Value
Every experience that I have had with Patrick and PJF Plumbing have been outstanding. It doesn't matter if it was a an emergency repair or remodel, the quality and professionalism were exceptional.
Amazing customer service!
Very friendly, no mess leftover. He is definitely, what I consider, our friendly neighborhood plumber with reasonable prices!! Thank you again for such amazing customer service!!

Recent Projects
A Small Gallery of Us
Warning
: Trying to access array offset on value of type bool in
/home/pjfplumbing.com/public_html/wp-content/plugins/designthemes-core-features/shortcodes/shortcodes.php
on line
4207
Warning
: Trying to access array offset on value of type bool in
/home/pjfplumbing.com/public_html/wp-content/plugins/designthemes-core-features/shortcodes/shortcodes.php
on line
4214
Warning
: Trying to access array offset on value of type bool in
/home/pjfplumbing.com/public_html/wp-content/plugins/designthemes-core-features/shortcodes/shortcodes.php
on line
4207
Warning
: Trying to access array offset on value of type bool in
/home/pjfplumbing.com/public_html/wp-content/plugins/designthemes-core-features/shortcodes/shortcodes.php
on line
4211
Warning
: Trying to access array offset on value of type bool in
/home/pjfplumbing.com/public_html/wp-content/plugins/designthemes-core-features/shortcodes/shortcodes.php
on line
4214